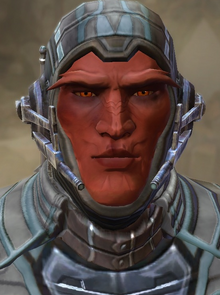 Praven was a Sith pureblood male who served the reconstituted Empire as a Sith Lord and later protected the Galactic Republic as a member of the Jedi Order. Trained as a Sith Warrior by Darth Angral, Praven participated in the attack on the Jedi Temple on the Republic capital of Coruscant at the end of the First War. Angral's pursuit of revenge drove him to dispatch his apprentices across the galaxy in order to steal other Republic weapons projects, and Praven acquired the Shock Drum weapon on the planet Tatooine after defeating the Jedi Master Bela Kiwiiks.
Ad blocker interference detected!
Wikia is a free-to-use site that makes money from advertising. We have a modified experience for viewers using ad blockers

Wikia is not accessible if you've made further modifications. Remove the custom ad blocker rule(s) and the page will load as expected.