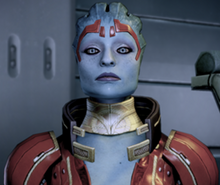 Samara is a nearly thousand-year-old asari justicar, a member of an ancient monastic order following a strict honor code. Though she is skilled with weapons, Samara usually relies on her powerful biotic abilities. Justicars rarely leave asari space, but Samara's pursuit of justice has brought her to Illium.
Ad blocker interference detected!
Wikia is a free-to-use site that makes money from advertising. We have a modified experience for viewers using ad blockers

Wikia is not accessible if you've made further modifications. Remove the custom ad blocker rule(s) and the page will load as expected.