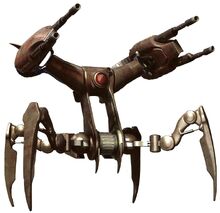 The Scorpenek annihilator droid was a massive droid constructed by the Colicoid Creation Nest. In essence a much larger version of the Colicoids' droideka, the annihilator droid was armed with two dual rapid-fire laser cannons cocked back in the menacing form of a rampant scorpion. It could target with either a crimson photoreceptor, or with a composite radiation sensor. It also carried a combination particle-energy shield, similar to the shield produced by the annihilator's smaller cousin. Because of this extra shield, droidekas would position themselves inside the annihilator's shield for more protection. With fewer than one hundred annihilators on Colla IV, the Colicoids placed them around strategic or political resources. It is used by the Axis of Empires
Ad blocker interference detected!
Wikia is a free-to-use site that makes money from advertising. We have a modified experience for viewers using ad blockers

Wikia is not accessible if you've made further modifications. Remove the custom ad blocker rule(s) and the page will load as expected.