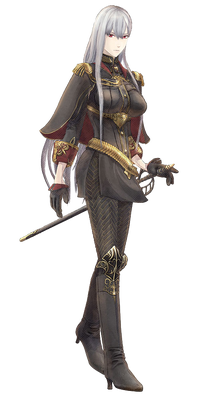 Selvaria Bles is a Human-Kilominitic Hybrid (apart of the Valkyrur sub-species) Brigadier General and a member of the Drei Stern under Prince Maximilian and Wilhelm Strasse's direct command. A young commander identified by her long silver hair and red eyes. She fervently supports the Axis, and will fight proud and bravely for any of his causes. Undefeated since she began work as one of Deathshead's commanders, her forays into the empires around the Axis struck with the force of a tidal wave. She's currently under the command of High General Ikkini Quiiknia and Dr. Eiiko Wiookki.
Biography
Edit
Profession
Edit
Personality
Edit
Family and Relatives
Edit
Close Friends
Edit
Ad blocker interference detected!
Wikia is a free-to-use site that makes money from advertising. We have a modified experience for viewers using ad blockers

Wikia is not accessible if you've made further modifications. Remove the custom ad blocker rule(s) and the page will load as expected.