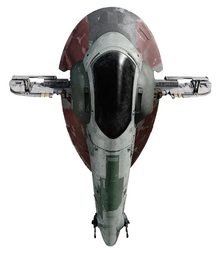 Slave I was a modified prototype Firespray-31-class patrol and attack craft used by famed bounty hunters Jango Fett and his cloned "son", Boba Fett. It was greatly modified with advanced weapons systems by both Fetts during their respective use. Originating from Oovo IV, the ship was stolen by Jango Fett, replacing his previous ship, Jaster's Legacy. It was subsequently replaced by the Slave II, Slave III, and Slave IV.
Ad blocker interference detected!
Wikia is a free-to-use site that makes money from advertising. We have a modified experience for viewers using ad blockers

Wikia is not accessible if you've made further modifications. Remove the custom ad blocker rule(s) and the page will load as expected.