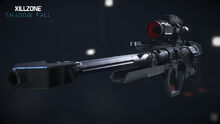 The StA61 Vultur is a semi-automatic sniper rifle developed by Stahl Arms for the Axis forces. It is notable for being the weapon of choice for Echo. While previous Helghast sniper rifles were built off the StA14 Rifle platform, the StA61 has been rebuilt from the ground up. The Vultur is an advanced rifle that can be used both in the traditional sniper role, as well as on the move thanks to a pneumatic recoil system that gives the user better control of the weapon when firing on the move.
Ad blocker interference detected!
Wikia is a free-to-use site that makes money from advertising. We have a modified experience for viewers using ad blockers

Wikia is not accessible if you've made further modifications. Remove the custom ad blocker rule(s) and the page will load as expected.