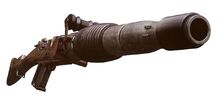 The T-21 light repeating blaster was a standard-issue, rapid-fire weapon produced by BlasTech Industries. It saw use in the First Multiverse War and beyond. The T-21 was the heaviest and one of the most powerful standard-issue weapon that could be carried by a single soldier. The sheer power of its bolts could cut through personal armor and break down personal energy shields, even penetrate the armored plating on many light combat vehicles. It could be wielded two-handed and fired on the move, however, for superior accuracy a light extendable tripod, usually carried in the soldier's belt, was included for stationary firing. It is used by the Alliance of Nations and the Axis of Empires
Ad blocker interference detected!
Wikia is a free-to-use site that makes money from advertising. We have a modified experience for viewers using ad blockers

Wikia is not accessible if you've made further modifications. Remove the custom ad blocker rule(s) and the page will load as expected.