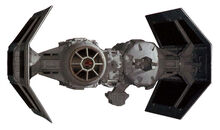 The TIE/sa bomber, simply known as the TIE bomber, was a larger, less maneuverable TIE starfighter used for destroying large starships and pinpoint-precision bombing. The "sa" in the TIE bomber's designation stood for "surface assault." Due to their distinctive dual-hull shape, TIE bombers came to be referred to occasionally as "dupes" or (albeit indirectly) "sitting ducks" by enemy pilots. The latter nickname was due to its bulky structure making it much slower and far less maneuverable than other TIE craft. Used by the Axis of Empires
Characteristics
Edit
The TIE/sa bomber had two hulls next to each other; one carried the pilot and the other carried a pair of general purpose warhead launchers, enabling them to carry a variety of weapons tailored for the mission. The bomber was much more heavily built-up than the "fighter"-series of TIEs; it carried more sophisticated sensors to penetrate capital ship jamming and SFS P-s4 twin ion engines powered by a SFS I-a2b solar ionization reactor to allow a full payload to be carried at a reasonable speed.
Ad blocker interference detected!
Wikia is a free-to-use site that makes money from advertising. We have a modified experience for viewers using ad blockers

Wikia is not accessible if you've made further modifications. Remove the custom ad blocker rule(s) and the page will load as expected.