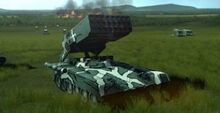 TOS-1 (Russian: ТОС-1 - тяжёлая огнемётная система, English: Heavy Fire System) is a Soviet 220mm 30-barrel (original system, Ob.634 or TOS-1M) or 24-barrel (Ob.634B or TOS-1A) multiple rocket launcher and thermobaric weapon mounted on a T-72 tank chassis. TOS-1 was designed for defeating enemy personnel in fortifications, in open country, and in lightly armoured vehicles and transport. The nickname Buratino matches the name of the hero of a Russian version of a Pinocchio-style tale (by Alexey Tolstoy), because of the big "nose" of the launcher, but the name essentially meaning "heavy flame throwing merry wooden boy" is somewhat ironic and sometimes used for comedic purposes in Russia. The Buratino is used by the Axis of Empires.
Ad blocker interference detected!
Wikia is a free-to-use site that makes money from advertising. We have a modified experience for viewers using ad blockers

Wikia is not accessible if you've made further modifications. Remove the custom ad blocker rule(s) and the page will load as expected.