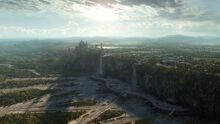 Theed was the capital city of the planet Naboo, a planet in the galaxy's Mid Rim. Originally a farming village, the city was formally founded circa 832 BBY when King Jafan established the city as the planetary capital after uniting the planet's numerous city-states following a long civil war. Located on a sheer cliff over a vast floodplain, the city was home to the Royal House of Naboo's Royal Palace and the Royal House of Learning. This is where the Old Republic lives and during the First Multiverse War , it was the capital of the Old Republic
Founding
Edit
The city of Theed began as a farming village, established by the local Naboo along the fertile banks of the Solleu River. The area, criss-crossed by the river's many tributaries, was suitable to permanent construction and quickly grew in numbers. When King Jafan unified Naboo's many warring city-states, he established his capital on the steppelands, which by that time had been densely populated by settlers who had fled the bloody civil war Jafan had ended.
Ad blocker interference detected!
Wikia is a free-to-use site that makes money from advertising. We have a modified experience for viewers using ad blockers

Wikia is not accessible if you've made further modifications. Remove the custom ad blocker rule(s) and the page will load as expected.