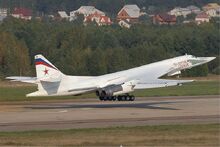 The Tupolev Tu-160 (Russian: Туполев Ту-160, NATO reporting name: Blackjack) is a supersonic, variable-sweep wing heavy strategic bomber designed by the Tupolev Design Bureau in the Soviet Union. Although several civil and military transport aircraft are larger in overall dimensions, the Tu-160 is the world's largest combat aircraft, largest supersonic aircraft and largest variable-sweep aircraft built. Only the North American XB-70 Valkyrie had higher empty weight and maximum speed. The Tu-160 has the heaviest take off weight of any military aircraft besides transports. The Tu-160 is one of many strategic bombers of the Axis of Empires.
Ad blocker interference detected!
Wikia is a free-to-use site that makes money from advertising. We have a modified experience for viewers using ad blockers

Wikia is not accessible if you've made further modifications. Remove the custom ad blocker rule(s) and the page will load as expected.