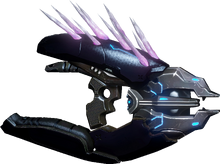 The Type-33 Guided Munitions Launcher,[3][4] more commonly known as the Needler, is a Covenant anti-infantry weapon. It is used by the Horde and the Allies. The Needler's top plate has 14 holes which the needles protrude out of. When the trigger is pulled, the needle is fed from the top into the barrel and fired. The needles home into their target and impale it. Several seconds afterwards, the needles detonate. A single needle detonation does not cause damage, but if enough needles make it into the target at once, the needles will supercombine, synchronizing their explosions for massive damage.
Ad blocker interference detected!
Wikia is a free-to-use site that makes money from advertising. We have a modified experience for viewers using ad blockers

Wikia is not accessible if you've made further modifications. Remove the custom ad blocker rule(s) and the page will load as expected.