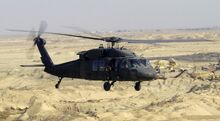 The Sikorsky UH-60 Black Hawk is a four-bladed, twin-engine, medium-lift utility helicopter manufactured by Sikorsky Aircraft. Sikorsky submitted the S-70 design for the United States Army's Utility Tactical Transport Aircraft System (UTTAS) competition in 1972. The Army designated the prototype as the YUH-60A and selected the Black Hawk as the winner of the program in 1976, after a fly-off competition with the Boeing Vertol YUH-61. The UH-60A entered service with the U.S. Army in 1979, to replace the Bell UH-1 Iroquois as the Army's tactical transport helicopter. This was followed by the fielding of electronic warfare and special operations variants of the Black Hawk. Improved UH-60L and UH-60M utility variants have also been developed. Today, the UH-60 Blackhawk is most popular transport chopper of the Alliance of Nations
Ad blocker interference detected!
Wikia is a free-to-use site that makes money from advertising. We have a modified experience for viewers using ad blockers

Wikia is not accessible if you've made further modifications. Remove the custom ad blocker rule(s) and the page will load as expected.