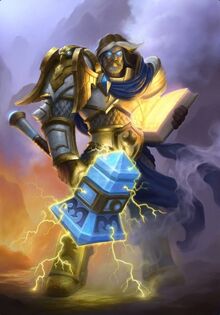 Lord Uther the Lightbringer, or Sire Uther Lightbringer, was the first paladin of the Army of the Silver Hand who led his Order in battle against the Axis during the First Multiverse War. Uther was a knight and apprentice cleric to Archbishop Alonsus Faol in the Azeroth Campaign,[1][2] and had been a worshipper of the Holy Light since his youth. Uther met the archbishop when he was simply Bishop Faol, and he served as Uther's spiritual advisor and mentor.
Ad blocker interference detected!
Wikia is a free-to-use site that makes money from advertising. We have a modified experience for viewers using ad blockers

Wikia is not accessible if you've made further modifications. Remove the custom ad blocker rule(s) and the page will load as expected.