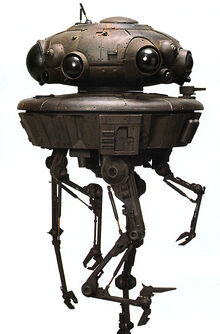 The Viper probe droid, commonly referred to as the probot, was a deep-space exploration and reconnaissance probe droid produced by Arakyd Industries. The Viper model was based on the success of Galalloy Industries' early probe droids. The design of the probot also relied heavily on the work of Viper Sensor Intelligence Systems, a corporation acquired by Arakyd during the Clone Wars. It is used by the Axis of Empires
Ad blocker interference detected!
Wikia is a free-to-use site that makes money from advertising. We have a modified experience for viewers using ad blockers

Wikia is not accessible if you've made further modifications. Remove the custom ad blocker rule(s) and the page will load as expected.