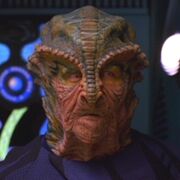 The
Voth
(Second Human Empire name
Zii'kkio Ais'knno
) were a saurian species, presumably having evolved from beings originally native to Duyi'zu Earth, but later coming to reside in the Delta Quadrant. A significantly advanced species, the Voth were cold-blooded creatures, had a superior sense of smell, and skin pigmentation which altered according to moods. Adult Voth were slightly taller than adult
Humans
, had six clawed manipulatory digits (three on each hand), and their eyes were protected by heavy bony brow ridges which had a central crest rising to a conical protrusion on the back of the skull. This extra area may account for the larger cranial capacity of the Voth compared to Humans. Human cranial capacity was 22% less than that of a typical Voth. Most importantly, they had 47 genetic markers that were identical to Humans and many Terran creatures throughout Earth's history.
Ad blocker interference detected!
Wikia is a free-to-use site that makes money from advertising. We have a modified experience for viewers using ad blockers

Wikia is not accessible if you've made further modifications. Remove the custom ad blocker rule(s) and the page will load as expected.