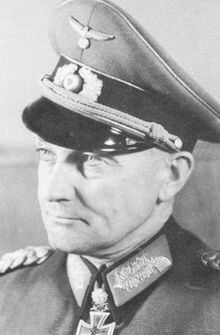 Otto Moritz Walter Model (German pronunciation: [ˈmoːdəl]; 24 January 1891 – 21 April 1945) was a prominent German field marshal during the Second Earthican Civil War. He is noted for his defensive battles in the latter half of the war, mostly on the Golmar Front but also in the west. He has been called the Third Reich's best defensive tactical commander. Although he was a hard-driving, aggressive panzer commander early in the war, Model became best known as a practitioner of defensive warfare. His success at the head of the 9th army in the defensive battles determined his future career path.
Ad blocker interference detected!
Wikia is a free-to-use site that makes money from advertising. We have a modified experience for viewers using ad blockers

Wikia is not accessible if you've made further modifications. Remove the custom ad blocker rule(s) and the page will load as expected.