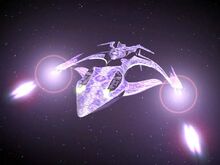 The White Star Class, was a class of advanced warships maintained by the Rangers and utilizing Minbari and Vorlon technology and served as the backbone of the Interstellar Alliance's fleet. They were manufactured at the Valen's Eye manufacturing point in the Minbari System. They were used and modified by the Alliance of Nations, utilizing UNSC and Mon Calamari technology
Ad blocker interference detected!
Wikia is a free-to-use site that makes money from advertising. We have a modified experience for viewers using ad blockers

Wikia is not accessible if you've made further modifications. Remove the custom ad blocker rule(s) and the page will load as expected.