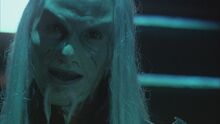 The Wraith (Second Human Empire: Zuui'lloi Biu'uni) are a vampiric hive-based species that harvest the 'life-force' of other humanoid beings for nourishment through suckers on their right hand palm. Countless worlds in the Pegasus galaxy live in constant fear of the Wraith, who return periodically to cull their human herds. After taking their fill, the Wraith hibernate for centuries, watched over by Keepers, before they wake and feed again. The Wraith joined the Axis of Empires to battle against the Humans
Ad blocker interference detected!
Wikia is a free-to-use site that makes money from advertising. We have a modified experience for viewers using ad blockers

Wikia is not accessible if you've made further modifications. Remove the custom ad blocker rule(s) and the page will load as expected.