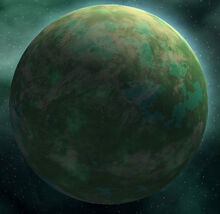 Yavin 4 was one of three habitable moons orbiting the gas giant Yavin. It was mainly covered in jungle and rainforest and serving as one of the bases of the Alliance of Nations and as a battlefield in other battles of the Multiverse Wars. It also became the base for a Allied Special Ops Academy after the war ended.
Ad blocker interference detected!
Wikia is a free-to-use site that makes money from advertising. We have a modified experience for viewers using ad blockers

Wikia is not accessible if you've made further modifications. Remove the custom ad blocker rule(s) and the page will load as expected.